Day 2 :: What Can Happen In One Hour?
Day 3 :: No Perfection Required
Day 17 :: Seasonal Inspiration
Day 19 :: Building Friendships
Day 22 :: Intentional Creativity
Day 26 :: Reach Towards Simplicity
Day 27 :: Super Easy Weekend Project
Day 31 :: The End? No, Just the Beginning
Welcome to 31 days to unleashing your creativity. Are you ready to join me on this adventure of realizing that you DO have the time and talent to create beautiful projects just like you see on Pinterest and around the web?
If this is your first time visiting Lovely Messes, welcome! If you are a return visitor welcome back. I'm so happy to be your guide on this trip and I want to welcome you to Lovely Messes. My name is Jen, if you would like to know more about me pop on over here.
Today I just want to get you energized and excited about this month! Throughout this series I am going to encourage you, inspire you, and prompt you to take action to be the creative person you want to be but might feel like you don't have time for.
I used to believe that I did not have the time, energy, or money to make my house beautiful or create DIY projects. But I have realized over the past year that making pretty things, some which help me stay organized, others that are fun to give as gifts, and others just because they are pretty, helps me stay balanced as a mom and even just as a busy woman in this time centric society we live in.
If you are one of those women who loves to look at all of the amazing projects but hasn't tried one yet or would like to find time to make more you are in the right place for this month of October.
In the next post we will get started with some practical tips for finding time for yourself.  In the meantime, check out my Words Inspire board on Pinterest. You can't help but get ramped up when reading them. My personal favorite for the series is below.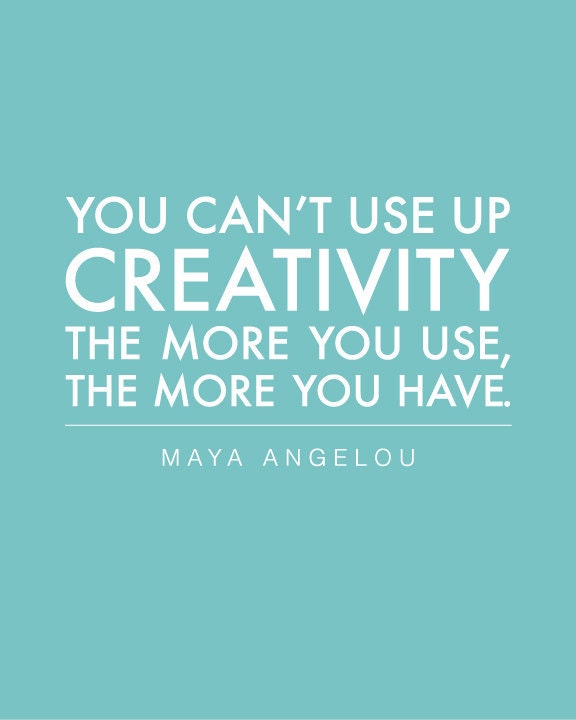 Prints can be found by karimachal on Etsy
I will be adding a link for each new day's post at the top of this one, so always come back here if you get lost.
Woohoo, I'm so excited and I hope you are too!
Find the other 31 dayers right here.
Follow my RSS feed so you don't miss a single post from the series.